Chi-Mac: Light and variable with the possibility of big chop and waterspouts?
CHICAGO, IL (#1070) – Doug DeVos remembers sailing along "fat, dumb and happy" under spinnaker in 15 knots of wind on Lake Michigan in last year's Chicago Yacht Club Race to Mackinac when his 86-foot maxi Windquest suffered a knockdown punch. In a matter of minutes, the wind had grown to 40 knots, blowing the yacht on its side, with the boom in the water, until the spinnaker blew up and the crew was able to regain control. Damage forced Windquest out of the race, one of the nearly 100 boats that had to retire. Still, that's not going to keep DeVos from returning for his 38th Chicago to Mackinac this weekend, the 110th sailing of the world's oldest annual freshwater distance race. –The AP's esteemed sports writer Bernie Wilson (USA, San Diego) in a wire-story from Wednesday afternoon about this weekend's Chi-Mac, the "110th sailing of the world's oldest annual freshwater distance race." Read the full story here.
Apropos and coincidental to Bernie's story, earlier this morning our good friend and weather guru Mark Michaelsen (USA, Long Beach) posted this to his FB page: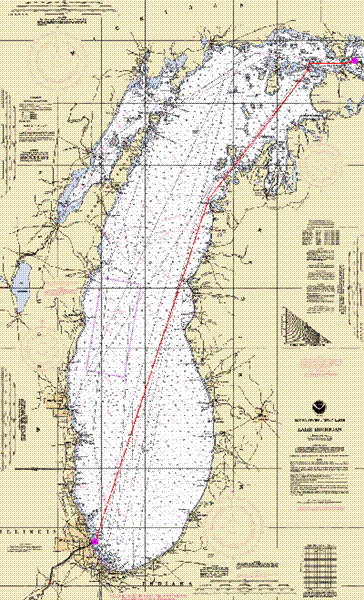 CHI-MAC RACE WX – The tea leaves are arranging. Eat your Wheaties. Bring big crew. If the forecast this morning is correct: Wind 16-24 G 31. T-Storms, possible waterspouts, big chop. Please keep in mind things could still change a lot between now and race day so don't pull the plug yet if this looks like too much for you and the crew but be prepared for it.
The race of roughly 290 nautical miles begins on Lake Michigan just off Chicago's Navy Pier and ends on the other side of the Mackinac Bridge near small, picturesque Mackinac Island on Lake Huron. Cruising classes begin on Friday, with the more serious racing classes starting Saturday. As it was last year when nearly 100 boats dropped out due to stormy weather, it could be a bit dicey out on Lake Mich come Saturday afternoon through Sunday morning if Mr Michaelsen's reading of the tea leaves comes true, as it often does.
Doug DeVos's WINDQUEST won last week's Bayview (Detroit) to Mackinac race (photo above), and is the favorite to repeat in the Chi-Mac which, for the turbo class, starts this Saturday. Photo courtesy of photoelement.com.